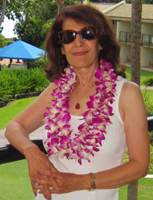 See the world as your self.
Have faith in the way things are.
Love the world as your self;
then you can care for all things.
--- Lao-Tzu
Hair Care Advice:
1) Healthy hair is shinny and will make you look young and healthy.
2) Have your hair trimmed every few weeks to prevent tip damage even for long hair or hair that you are growing longer. Tip damage will travel up the hair.
3) Use a moisturizer in your hair at least twice a week.
4) Not every style works for everyone. Your hair style should be compatible with your hair texture and face.
5) Consider whether you would like a high or low maintenance hair style.